My addiction or love of this vinyl stuff, probably stems from my being named Debbie during the 1950s. I was named after Debbie Reynolds, one of the first bobby soxers. Some of these items are super hard to find as the construction was ruined when any liquid hit them, especially lunch boxes with milk. I have finally opened up my ponytail museum and it is getting rave reviews. I have over 300 vinyl fashion doll cases and accessories for sale or on display in the museum. Some you will never see again as they were ruined so easily. We are located at 3674 East Highway 20 in Nice, California. It is across the street from beautiful Clear Lake between the highways 5 and 101 in northern California.
My first Ponytail item was my Barbie doll case in 1961. It was shiny black vinyl with three outfits on front and Ponytail written on the top.
My First Barbie Lunchbox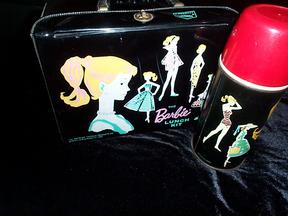 My next item was a Ponytail Barbie Lunch box for fifty cents at Goodwill like twenty years ago. The third item was the infamous airline bag for ten bucks that same year. At the time, I was new to collecting lunch boxes and thought it was one. I started to research Ponytail and the rest was history. I now have over 200 teen type items. I love anything with a Ponytail girl on it. I have searched high and low for all kinds of vinyl. I have put together a nice collection of vinyl lunchboxes. Here is pic from my lunch box museum and antique store.

Vinyl Lunchboxes




I have tried to put together some information for you to enjoy and to also help you collect your own. I am always looking for more, especially old ads advertising them. If you have anything to sell, please click on my email. I will be selling my extra items in the future, promise!

Part of the Ponytail Collection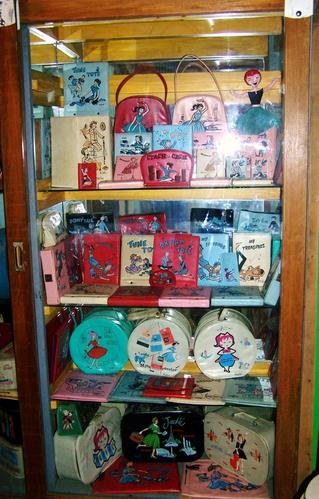 During the mid 1950s, Don Levine went to his boss with a great idea to help his company A.J.Siris. It was to put Ponytail girls on various vinyl items like diaries, scrapbooks, and notebooks. His boss didn't share his enthusiasm and actually fired Levine, however Standard Handbags listened to him.
The company soon made Levine a partner and started making bobby soxer era items out of heat sealed vinyl over cardboard. The Ponytail accessories were silk screened with four colors on light pink, creamy beige, baby blue, some aqua, and bright red. I believe there were 25 different things made like scrapbooks, photo albums or frames, stationery or card folders, book covers, purses, record cases, garbage cans, tissue holders, lunch boxes, doll cases, assorted overnight bags, jewelry boxes, a pen pal doll, dictionaries, pencil cases,and banks. They ended up being hot selling merchandise at stores like Woolworths, J.J. Newberry, Grants, and Korvettes by 1957. The company changed its name to Standard Plastic Products with all its success. They even made stuff for the Girl Scouts and different lunch box companies.
Any questions, please feel free to email me.
Click any photo for a larger view.